I already quoted this poem several entries back for a different painting I made (Memories Of Carcosa), but it continues to inspire me to do more art, so here are a few lines from it once again;
Strange is the night where black stars rise,
And strange moons circle through the skies
But stranger still is
Lost Carcosa.
Songs that the Hyades shall sing,
Where flap the tatters of the King,
Must die unheard in
Dim Carcosa.
The King, cloaked in a tattered yellow mantle and bearing a pallid mask, is an avatar of madness and destruction.
Title: The King In Yellow
Medium: Acrylic on canvas
Size: 16 x 20 inches
Status: For Sale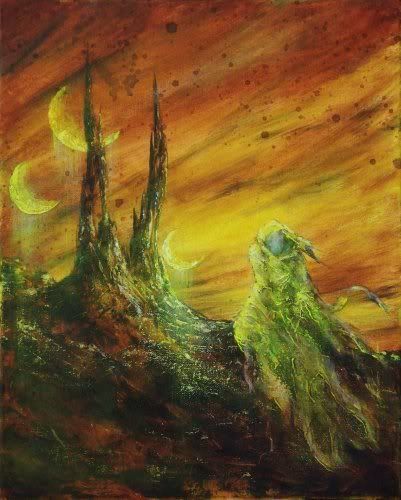 Detail from painting;